Welcome to WUGC2012
  President of WORLD FLYING DISC FEDERATION
  Robert "Nob" Rauch
President of WUGC2012 SAKAI Tournament Organizing Committee
  Fumio "MORO" Morooka
Minister of Education, Culture, Sports, Science and Technology
  Mayor Sakai City
  Osami Takeyama
  Chairperson of The Sakai City Council
  Toshifumi Yoshikawa
  Councilor of The Sakai City Council
  Nobuyuki Baba
---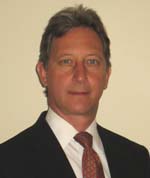 President of WORLD FLYING DISC FEDERATION
Robert "Nob" Rauch
April 2012
To all participants in the 2012 WUGC:
On behalf of the World Flying Disc Federation, I would like to welcome all athletes, coaches, staff, supporters, and spectators to Sakai, Osaka, Japan for the 2012 WFDF World Ultimate and Guts Championships (WUGC). We are confident that this will be an exciting event for all.
Japan Flying Disc Association has put together a great program developed by an experienced team led by JFDA President and WFDF Board member Fumio Morooka and Tournament Director Masakazu Honda. I think you will all enjoy the world class facilities at J-Green Sakai National Training Center and we thank the local authorities for their support. WFDF is pleased to be able to return the WUGC to Japan on the 20th anniversary of the first time the event was hosted in Japan, an event in which I personally played.
In the face of the adversity faced by the Japanese people due to the unfortunate events in 2011, our decision to stage the WUGC 2012 in Japan is an expression of our support for their recovery efforts and our confidence in the strong spirit and resolve of the Japanese people and Japan Flying Disc players.
WFDF's World Championships featuring national teams in Ultimate and Guts are held every four years, and this will be our 13th World Championships. There will be athletes from 25 countries and 71 teams this year, competing in five divisions in Ultimate (Open, Women's, Mixed, Open Masters, and Women Masters) and in Guts. This year's event will also serve as the qualifying tournament for the upcoming World Games, which will be held in Cali, Colombia in the summer of 2013.
We will also be hosting our annual WFDF Congress during the second weekend of the event. WFDF's Executive Director, Volker Bernardi, several other board members and officers and I will be in attendance and we encourage you to feel free to introduce yourself and give us any constructive input you would like. We are always trying to make our events even better.
We wish all teams much success and hope that you all have an enjoyable tournament!
Very truly yours,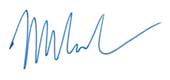 Robert "Nob" Rauch
President
---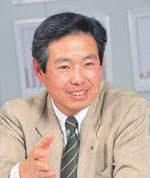 President of WUGC2012 SAKAI Tournament Organizing Committee
Fumio "MORO" Morooka
(President of Japan Flying Disc Association)
Dear All Ultimate & Guts Players,
In Japan, we have a proverb that human beings can turn damage into power to find happiness.
On March 11, 2011, disastrous Earthquakes and Tsunami attacked Eastern Japan, and Fukushima Daiichi Nuclear Power Plant exploded. The damages were huge. In fact the magnitude of the earthquake was one of the biggest ever experienced by mankind and the tsunami was the most powerful in these 1,000 years. We were terribly shocked by the serious damages, but Japan Flying Disc Association (JFDA) wasted no time in sending relief aid to the victims including soft discs to school physical educators. Many schools in affected area were turned into evacuation centers and children could not have enough space for sports. 3 months later, we started Tohoku (Northeastern Japan) Ultimate League Matches to cheer up disc players and families in disaster area.
As early as only 3 weeks after the disaster, JFDA decided to challenge another big project to "host World Ultimate and Guts Championships (WUGC)". 20 years have already passed since we hosted WUGC in Utsunomiya. As Japanese Yen is too strong against US dollars and Euro, maybe now is not a good time to invite disc players from overseas. However, we really need many players from overseas in WUGC2012 SAKAI. Sakai City and Western Japan have not been affected by the radioactive contamination. Nonetheless, many foreign visitors stopped coming to Japan, even Western Japan. Western Japan is safe. Your participation is a GREAT support to Japan. Much to our delight, World Flying Disc Federation (WFDF) understands our aspiration and decided to have the next WUGC in Sakai. We, at JFDA thank WFDF and the disc family in the world for your warm friendship from the bottom of our heart.
On behalf of JFDA, I invite you to "the meaningful World Ultimate & Guts Championships" in Sakai, Osaka, Japan from July 7 to 14, 2012.
As you all know, WUGC2012 SAKAI acts as a qualifier for World Games 2013 Cali, Columbia under the patronage of the International Olympic Committee. The top 5 countries of WUGC2012 SAKAI will qualify for the Games.
WUGC2012 SAKAI bears the unlucky number "13"th WUGC. But PLEASE come to Japan. We want to ask all WFDF member countries, especially the countries that have never joined World Championships to participate WUGC2012 SAKAI. Your participation will certainly show "the Power of Flying Disc" and "Human beings can turn damage into power to find happiness" to the world.
We look forward to seeing you in WUGC2012 SAKAI !
Sincerely,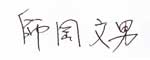 ---
Minister of Education, Culture, Sports, Science and Technology
WFDF 2012 World Ultimate and Guts Championship
Address by Minister of Education, Culture, Sports, Science and Technology
I would like to congratulate you on the occasion of the WFDF 2012 World Ultimate and Guts Championship.
Sports holds extraordinary significance for the building of a cheerful, rich and vigorous society while helping to preserve and promote physical and mental health and to enhance physical strength.
The Basic Sports Act was enacted last June in recognition of sports as a universal human cultural activity. Since the enactment, we have achieved a virtuous cycle supporting sports development through the coordination and cooperation of a wide range of players while creating an organic link of policies to boost the competitive level of Japanese sports. We anticipate that the participation in and support for sports by the Japanese people will reach new highs. The Ministry of Education, Culture, Sports, Science and Technology (MEXT) is spearheading policies to promote sports activities geared to each citizen's stage of life as well as those to promote international exchange through sports.
In this context, I am sincerely pleased that the holding of a world tournament aimed at expanding and developing flying disc sports holds such significance for the promotion and contribution of international sports exchange, for an increase in international mutual understanding and for its contribution to international peace.
I expect all participants in this tournament to enjoy the fruits of your daily practice regiment and to contribute further to the promotion of flying disc sports while deepening interaction between you and your fellow competitors from each country around the world.
In conclusion, let me congratulate you and wish for both the success of this tournament and the further development of the sport while expressing my heartfelt respect for all those who did their utmost to realize this tournament, including the special non-profit, Japan Flying Disc Association.
---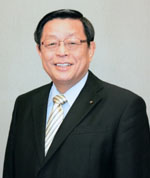 Mayor Sakai City
Osami Takeyama
I would like to extend my sincere congratulations on the WFDF2012 World Ultimate and Guts Championships and I would also like to welcome all the participants and guests from around the world on behalf of the 840, 000 residents of Sakai.
It is our great pleasure and honor that the championships will be held in Sakai for the first time in Japan in 20 years. These world championships, competed in by international teams and the world's top players, will attract many people including younger generations and contribute much to the promotion of sports in this city. I would like to express my deep respect and appreciation to the NPO Japan Flying Disc Association and everyone else for their great efforts in preparing for this event.
Many of our residents are looking forward to witnessing exciting and excellent matches befitting the world championship in our proud sports facility "J-GREEN Sakai" from July 7 to 14, 2012. It is my hope that this event will further develop and promote the flying disc.
In Sakai, there is one of the world's three largest ancient tombs, the Nintoku-tenno-ryo Kofun tumulus and the group of tumuli to which it belongs, the Mozu Kofungun. The city has been working for its registration as UNESCO World Heritage Site. During the medieval era, Sakai enjoyed great prosperity through overseas trade as a liberal autonomous city. Knife forging, incense making and bicycle manufacturing are our traditional industries and we have many historical and tourism sites to visit as well, including the Nanshuji Temple, where the great tea masters Takeno Joo and Sen no Rikyu trained themselves. It would be our great pleasure if people involved in this event had the chance to encounter Sakai's culture and history.
In closing, I would like to extend my sincerest wishes for the success and development of this event and for the health and happiness of everyone involved.
---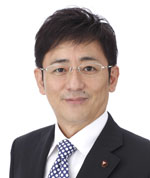 Chairperson of The Sakai City Council
Toshifumi Yoshikawa
I sincerely celebrate the WFDF 2012 World Ultimate and Guts Championships is going to be held at J-GREEN SAKAI as the representative of The Sakai city council.
In the beginning, I would like to mention the great honor to Japan Flying Disc Association, which contributes to the preparation and organization of the championships.
We are looking forward to see many participants such planned 60 teams from 25 countries from all over the world visiting Sakai city. Also we are very excited to see attractive world class games since WUGC is going to be held for first time in Japan in 20 years.
For those who are selected as a member of Japan national team, it is greatly expected that all of the players do your best with skills accumulated through hard practices. And we wish your sincere attitudes to spread Flying Disc sports all over the world.
For those who will come to Sakai, I hope you all will enjoy the attractive city here in Sakai and please enjoy intercommunication with Sakai city's citizen.
As the Sakai city council, we are planning to create a high quality city where everyone is able to live healthy and vividly through sports. Please understand and support us in order to create a livable city together in the future.
In closing, I would like to extend my sincerest wishes for the success and development of the World Ultimate & Guts Championships and for the health and happiness of everyone involved.
---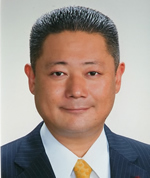 Councilor of The Sakai City Council
Nobuyuki Baba

I hereby would like to congratulate the grand opening of WFDF 2012, World Ultimate & Guts Championships. I expect to see many hot games at this J-GREEN SAKAI from July 7th.

I felt great honor as well as the excitement of watching the world-class performance up close when Japan Flying Disc Association paid courtesy call to our office in Sakai and informed us that this championship will be held in Sakai.
This venue: J-GREEN SAKAI, with its national-class facility, is loved by citizens as a ground where various sports are played. For those came all the way from your home country, I wish you could fully enjoy the attractiveness of this venue.

Aside from serious championship as it is here, Flying Disc is acknowledged as the life-sport which anyone can easily participate. Through the opening of such world-class championships at Sakai, I wish the Flying Disc be more popular among the citizens of Sakai from young children to elders.
Since the disaster of March 2011, the heart of caring and helping, and the network among the community/society is being reconsidered. I hope the Flying Disc will take the important role, and attract attention of the people, as the sports which unite people together.

In closing, may I say from the bottom of my heart, wishing the further expansion of Flying Disc Association and the great success of the championships. Thank you!